To begin installing the software, double click the provided .exe file. to begin the installation. Please note, if you have Windows Defender SmartScreen or certain versions of Norton running on your machine, please allow the software to be downloaded on your device. If Windows Defender is blocking the software, click on More Info then click on Run Anyway to begin installing.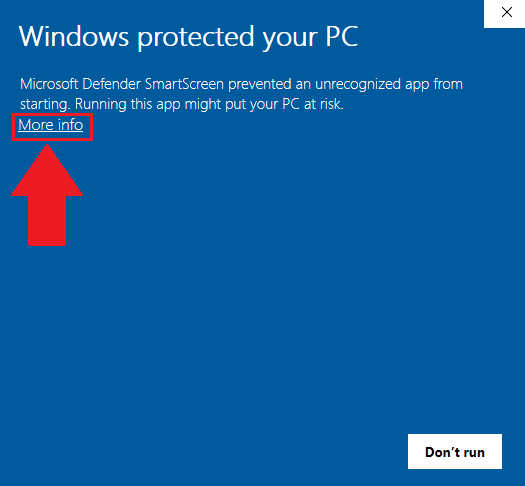 Please note, this is a trusted software and will not harm or have any negative impact on your machine.
On the initial setup screen, select your language from the Select Language dropdown menu. Click on the I have read and agree checkbox and agree to the End-User License Agreement ("EULA") agreement. To read the agreement, click on the agreement link provided. Once complete, click Next to continue.
Select the functions that you want to install with the software. You can choose to bundle the PC-NVR function with the software. PC-NVR turns your computer into an NVR and will utilize your hard drive (HDD) on your PC to store and access recorded video. To proceed with the installation, click Next.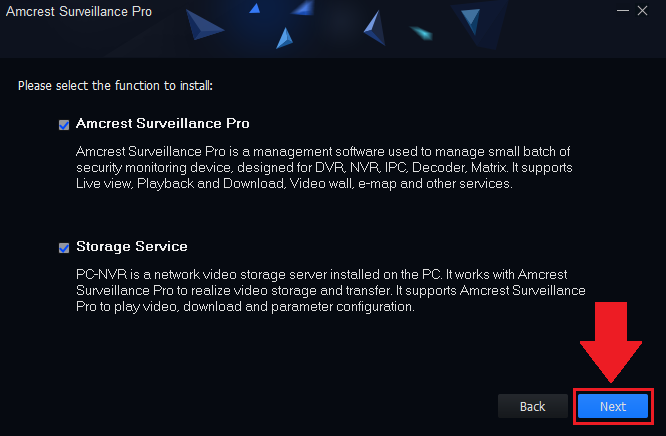 Select an installation path for the software. To choose a folder, click on the Browse button and select the folder. Once a folder has been selected, click the Install button to begin installing the software on your computer.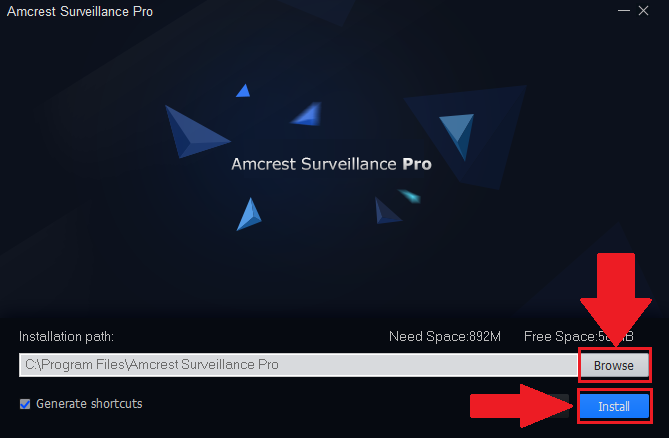 Please note, if there is an older version of Amcrest Surveillance Pro detected on your machine, the new software will overwrite the old software. However, the device list information will still be reserved. Click Install to install the new software.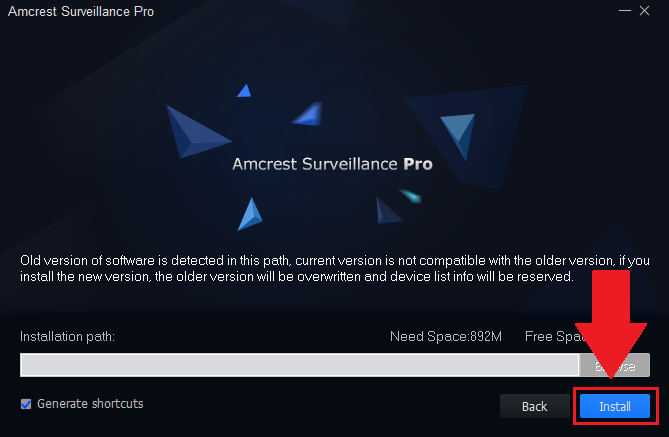 To generate a shortcut icon for the software on your desktop, click the Generate shortcuts checkbox.
Once the software has finished installing you will see a few options available. You will have the option to view the release note and run the Amcrest Surveillance Pro software. To begin running the software directly after pressing finish, select the Run Amcrest Surveillance Pro checkbox and click Finish to proceed.
Setting a Password
After the installation of the Amcrest Surveillance Pro software, you will need to set an administrator password. This password will be the admin password for the software. When a valid password has been entered, confirm the password in the Confirm Password field and click Next to continue.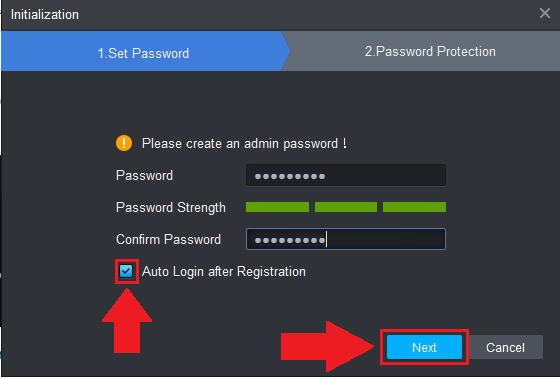 This software provides password protection questions which can be answered in the event that you lose or forgot your password for the software. Select an applicable question from the Question dropdown menus and fill in the answer for those questions in the Answer field. Click Finish.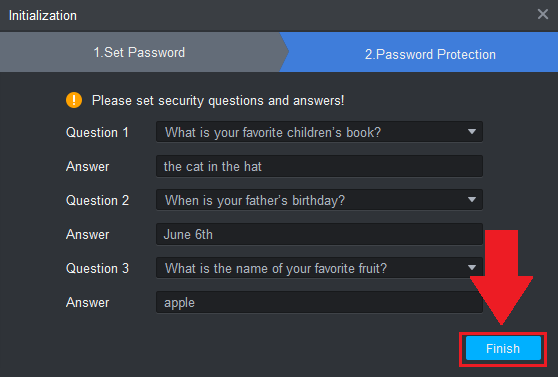 The software has now been properly installed on your machine. The password for the software will be saved by default on the login screen. If you would like to have your computer remember this password whenever you open the software, click Remember Password. If you would like the software to automatically log you in whenever your machine is reset, click Auto Login. Click Login to open the software.